On February 26, 2021, the Government issued Resolution 21/NQ-CP on the purchase and use of COVID 19 vaccines.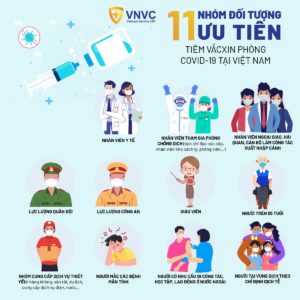 Accordingly, the resolution on who is prioritized for COVID-19 and free vaccination in 2021 includes:
– Frontline forces for epidemic prevention and control, including:
+ People working in medical establishments;
+ Participants in epidemic prevention and control (Members of steering committee for epidemic prevention and control at all levels, people working in quarantine areas, retquest tasks, epidemiological investigations, volunteers, reporters …);
+ Army; Police.
– Vietnamese diplomatic staff and officials sent abroad; customs officers, immigration officers;
– Essential service providers: aviation, transportation, tourism; providing electricity and water services…;
– Teachers and people working at educational and training establishments; people working in administrative agencies and units who are in regular contact with many people;
– People suffering from chronic diseases, people over 65 years of age;
– People living in epidemic areas;
– The poor, the subjects of social policies;
– People sent by competent state agencies to work, study and work abroad.
– Other subjects decided by the Ministry of Health on the basis of epidemic prevention requirements.
Note: In 2021, vaccines will be used for people aged 18 years and older, prioritizing pre-injection for the above subjects in provinces/cities with epidemics; in provinces and cities, priority is given to epidemic areas.