Information from the Ministry of Health said this week that the Ministry of Health will continue negotiations to buy COVID-19 vaccines. It is expected that next March will be vaccinated against COVID-19 for the first time.
According to the Ministry of Health, in addition to the vaccine of AstraZeneca Vietnam has ordered (30 million doses) and been supported by COVAX (30 million doses) for 2021, if there is enough vaccine for people to have vaccinations, according to Minister of Health Nguyen Thanh Long, Vietnam needs 150 million doses of vaccine this year.
As a result this week, the Department of Health will continue to negotiate the purchase of COVID-19 vaccines. The vaccine companies that Vietnam is discussing are Russian and American vaccines.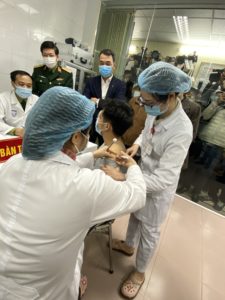 Vietnam gradually implements national vaccination
In order to prepare facilities for vaccine import, For the first time Vietnam has invested in a deep negative cold storage system (- 40 to -86 degrees Celsius). There are currently 3 such cold storages of an investment vaccination system in Ho Chi Minh City. Ho Chi Minh City, Da Nang and Hanoi and are licensed by the Ministry of Health.
At each deep cold storage, there will be an additional defrosting warehouse (the controlled temperature is always below 8 degrees Celsius) to ensure the vaccine is safely defrosted before being put into use.
As of February 8, there are 11 COVID-19 vaccines approved by the European Medicines Administration (EMA), the U.S. Food and Drug Administration (FDA) and many countries that allow emergency circulation/importation. Vietnam has also approved the emergency import of one of these vaccines.
There are also 237 vaccines in development, of which Vietnam has 3 products, 2/3 are in the human trial stage, the remaining product is expected to be tested in humans from March 2021.
Most COVID-19 vaccines require storage at 2-8 degrees Celsius, but there are also products that require storage and transportation at deep negative temperatures. That makes the plan to buy vaccines and transport and preserve vaccines of many countries difficult.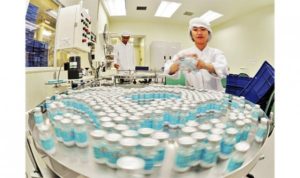 Vaccines manufactured by Vietnam have positive results
However, Vietnam has prepared conditions for cold storage, this special warehouse is a very special form: "warehouse", and is willing to negotiate with all manufacturers with qualified and approved products.
It is expected that the vaccine will be widely vaccinated (first for the high-risk group) in Vietnam in March, after the vaccine arrives in Vietnam in the next few days and is evaluated for quality.
Previously, on December 17, 2020, Vietnam tested domestic vaccines in humans for the first time and so far after more than 2 months of evaluation shows very positive effects.
Source: Tuoi Tre