DeepView 24 is a dive boat built by Triton and designed specifically at the request of billionaire Pham Nhat Vuong. The Triton DeepView 24 dive boat has 24 seats, more than 15m long, with a weight of almost 55 tons.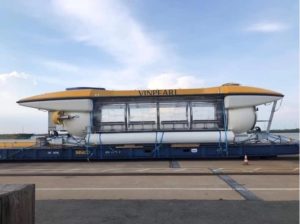 Panoramic view outside the DeepView24
In this first cruise ship project in Vietnam, BPL continues to take on the responsibility of planning to receive and transport the ship to Nha Trang and hand it over to Vinpearl team. This was a significant challenge when only a small negligence could cause great damage to the ship.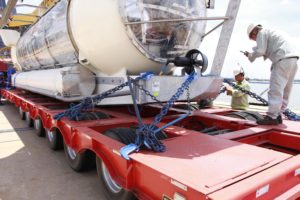 Final inspection of safety points before delivery to Vinpearl Nha Trang
With experience as a foreration in the field of super-weight, the DeepView24 ship transport project hardly caused much obstacles for the BPL team.
Project Overview:

Requirements from Vinpearl: ensure safety for the entire process of lifting / lowering and transporting from the port to the warehouse.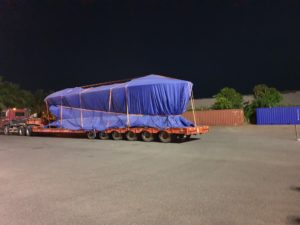 The ship is covered with tarpaulin, fixed with multiple cables to avoid causing damage
Responsibilities of BPL:
At the port: Ensure safety Lifting / landing at the port
At Port: Lashing, covered with tarpaulin to ensure the safety of goods when transporting
Transportation: Ensure safety Transportation from port to warehouse
At warehouse: Ensure the safety of goods cranes / put into the required position.
With the successful transportation of DeepView24 to Vinpearl Nha Trang safely, this is the premed for later cooperation between BPL and Vinpearl Joint Stock Company.